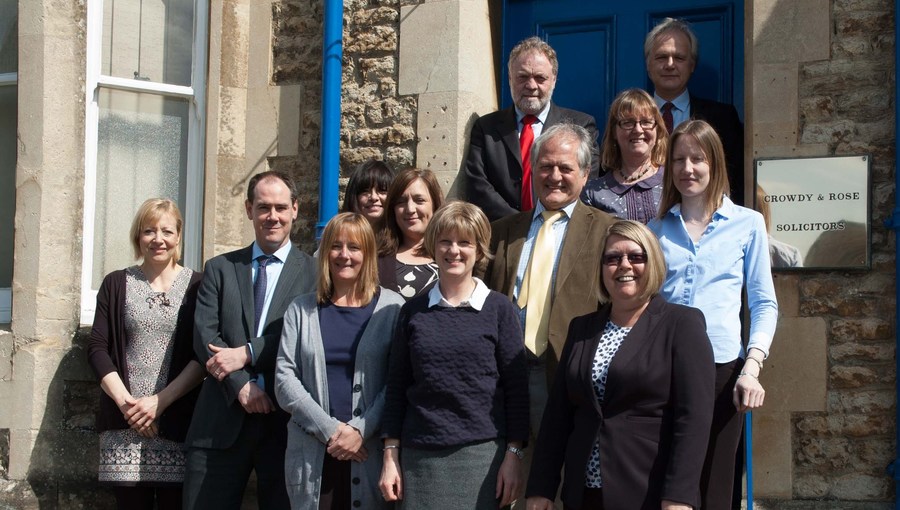 Our People
Richard Noyce, Director
An Honours law graduate from Southampton University, Richard trained with Moore and Blatch, one of the leading firms in Hampshire. Forty years on, he continues to serve his clients old and new.
He has a realistic and economic approach to his work for his clients, and joined Crowdy and Rose in 1985 as an assistant solicitor and now is one of its directors. He enjoys the day to day contact with clients and, until recently, was the firm's advocate; conducting trials within the County and Magistrates' Courts.
Health issues have meant that he now is principally office bound, dealing with the more high profile cases. He has a reliable team of barristers he can call upon to carry out work in the courts, while he remains at the centre of things in the office.
He has developed a practice that covers many aspects of law in the family and business setting. His general practice background gives him an overview which his clients find refreshing.
With all cases Richard has developed an empathy with his clients which enables him to understand their needs. He is able to adopt an unbending stance when needed, yet takes care to avoid confrontation thereby helping his clients in the most delicate of situations.
With over 40 years of legal experience, Richard likes to feel that he has seen most types of issue that can arise in a high street practice and is able to offer a practical and helpful approach for clients.
In his spare time, (such that it is!) Richard enjoys singing with an A Cappella group called Quintessence. His singing has taken him to perform in the Savoy in London and in the Oxo Tower; but his claim to fame was appearing as a singing strawberry on the Stitch Up series on the BBC in the 1990s. Sadly a BAFTA eluded him!!
Stephen Clarke, Director
After graduating from Kingston University Stephen spent the next nine years in Greater London high street practices before the lure of the Cotswolds and a more rural life encourage him to join Crowdy & Rose in 1990. He became a partner in 1997 and a director from the inception of the limited company in 2014.
Stephen is the firm's specialist in all aspects of probate and trust and also deals with all areas of property law. As the manager of the Lechlade branch, Stephen considers himself able to offer general advice on most areas of non-contentious law.
Stephen prides himself on providing legal advice in a manner that is clear and understandable to everyone without unnecessary or confusing jargon.
Outside the office, Stephen is interested in following sports with particular emphasis on cricket. He enjoys walking long distances as long as there is a decent pub to retire to afterwards!
Scott Robinson, Solicitor
Originally from Abingdon Scott qualified with a local firm of solicitors and has held a position in Faringdon and Highworth before settling for twenty five years with the firm of Patrick Smith and Co in Wantage. He became a consultant to the practice in March 2016 and has quickly established himself as a cornerstone to its business, proving very popular with clients.
He enjoys the interface with clients on a daily basis and deals with a wide variety of work from house buying and selling for clients to dealing with company work for his business clients. He also helos executors with the proving of wills and administration of estates.
Although a Lawyer by day Scott has been a rugby player coach and referee in his spare time, and still enjoys watching the Quins.
Nick Pugh, Solicitor
Nick is an experienced commercial and residential property lawyer based in our Faringdon office. He qualified as a solicitor in 2000.
He has a broad client base and acts for both individuals and businesses in the local area in relation to their property matters.
In the commercial property field he acts for both landlords and tenants in advising on their leases and also deals with the acquisition and sale of freehold properties. In addition to sales and purchases for his residential clients he also deals with refinancing, transfers of equity and new-build properties.
Tina Friend, Chartered Legal Executive
Tina joined Crowdy & Rose in August 2015. She has gained more than 20 years experience in litigation with firms in Oxfordshire and Berkshire undertaking litigation in all aspects of family law arising from marriage and relationship breakdown, including divorce, separation, financial matters, cohabitation, child maintenance and Children Act Proceedings. She also deals with personal injury work, and professional negligence, landlord and tenant disputes, contract, building and neighbour disputes.
Tina qualified as a Legal Executive in June 2004 and became a Fellow of the Chartered Institute of Legal Executives in June 2006. In 2017 she was made Chairman of the Oxfordshire Branch of Chartered Legal Executives which offers support and training events for both qualified Legal Executives and those training.
Born and raised in Oxfordshire she has good local knowledge. She is both sympathetic and approachable and is dedicated to providing the advice required to obtain the most favourable result for clients.